MAMA Academy is a pregnancy charity empowering women and midwives to help more babies arrive safely. We educate expectant mothers on how to keep healthy, and when they should call their midwife for advice. We also support midwives by keeping them up to date with current guidelines and research to aid consistent maternity care. All the information we provide is written by our team of health professionals and our website is accredited by the Royal College of Midwives for professionals. The UK has one of the worst stillbirth rates in the developed world, so our mission is to save babies' lives by promoting positive pregnancies (Box 1).
MAMA Academy
MAMA Academy is a charity founded in 2012 by Heidi Eldridge, whose first child was sadly stillborn in 2009. Even though Heidi had gestational diabetes, she managed her blood sugar levels by diet alone and was told she had nothing to worry about. At a routine 36-week antenatal appointment, the midwife couldn't find the baby's heartbeat. Heidi was asked when she had last felt the baby kick and she couldn't remember—she'd never been told the importance of monitoring her baby's movements. Aidan Eldridge's death is marked as unexplained, even though he was found to be growth restricted. Heidi was told his death was 'just one of those things' but when she discovered that the majority of stillbirths are preventable, it sparked her passion to empower parents with information and support midwives to prevent similar heartache.
The most recent Lancet (2016) series reported that the UK is making shockingly slow progress in reducing stillbirths due to a culture of 'fatalism, taboo and stigma'. A national audit by MBRRACE-UK of term stillbirths identified that an inadequate response to a history of reduced fetal movements contributed to almost 25% of stillbirths (Manktelow et al, 2016). In 2015, the stillbirth priority setting partnership asked whether empowering women to know about relevant evidence-based signs and symptoms, and to raise them with health professionals, would reduce stillbirth.
To address this key question, one of MAMA Academy's trustees, an obstetrician at St Peter's Hospital, came up with the idea of creating an educational wallet to give to pregnant women, to help them discuss essential safer pregnancy messages with midwives and seek help early, as part of a national stillbirth reduction strategy. MAMA Wellbeing Wallets are durable PVC ziplock pouches, designed to protect the woman's antenatal notes. They are printed on the front and back with colourful, easy-to-read health messages that are in line with safer pregnancy messaging from stillbirth charity Sands and the Department of Health. The wallets are supported by NHS England. The main maternity service phone number can be written on the wallet, emphasising that women have permission to call if they notice any problematic symptoms.
In September 2015, NHS England funded 80 000 Wellbeing Wallets to be provided free of charge to 15 hospital Trusts across the country for 1 year. As that funding is about to end, the majority of these Trusts will continue to fund the wallets themselves. More recently, various local Sands groups, along with baby loss charities such as Teddy's Wish, have generously funded wallets for Trusts in London, Somerset and the North of England.
Currently, midwives in 30 Trusts nationwide give the wallets to women at their booking appointment. They discuss the topics listed on the wallet, which include smoking, foods to avoid, signs of infection, signs of pre-eclampsia, intrahepatic cholestasis of pregnancy, when to call the maternity unit without delay, and how to monitor the baby's movements.
MAMA Academy hopes that more Trusts will have signed up to use the wallets by the end of this year (Box 2).
Wellbeing Wallets
'These wallets are now well and truly off the ground and I'm so grateful for the support of NHS England to help us reach more mums. The UK has one of the highest stillbirth rates in the developed world and all maternity providers should be working to reduce this. The Wellbeing Wallets offer a cost-effective way to give more babies the best chance of arriving safely.'
— Heidi Eldridge, chief executive officer, MAMA Academy
A survey of women's feedback is advertised on the MAMA Academy website, Facebook page and via posters in 15 Trusts. Women reported regularly reading the information on their wallet while waiting for appointments, and also that the information (mostly regarding when to call the midwife, signs of labour and the baby's movements) had prompted further discussions with their midwife.
Four months after initial distribution, staff feedback received from nine Trusts included comments that midwives were using the wallet to prompt discussions, and also as a way to inform women of local classes, such as Pilates, and breastfeeding groups. They also said that women were bringing the wallet to future appointments and more discussions were taking place between midwives and women on smoking, diet, fetal movement and signs of labour. One Trust told us that women were more confident in knowing when to call for advice.
The initiative has already impressed several high-profile figures in maternity care, including midwifery consultant Sheena Byrom OBE, who said:
'Pregnant women receive an abundance of leaflets during the antenatal period, which can be overwhelming and key messages can be overlooked. As most women keep their antenatal handheld notes in a bag to keep them safe and clean, the wallet is an ideal way of maximising the opportunity for vital snippets of information to be read. The wallet's dual purpose is invaluable—and it's designed by a mum, for mums!'
The wallets have been implemented via community midwives at the booking appointments at various sites in London since August 2015. In April 2016, the London Strategic Clinical Network carried out an audit in St George's University Hospitals NHS Foundation Trust and Lewisham and Greenwich NHS Trust. The audit took place over 2 days in the day assessment units, via a short questionnaire completed by both the women who attended and the midwives. The findings were presented at the London Heads of Midwifery meeting in July.
The majority of women who participated were in the third trimester of pregnancy, and more than 70% reported using the wallets regularly. Across the two Trusts, an average of 12% of women reported that their attendance at the day assessment unit was prompted by the wallet; reasons mainly included reduced baby movements, but also warning signs of other significant health conditions including pre-eclampsia. Women did not report any anxiety being caused by the presence of the wallets. The majority of women (81%) felt the information on the wallets was clear. Importantly, a large section of participants (averaging 34%) reported English as being their second language; it is reassuring that these women felt the information was accessible and clear.
The staff survey demonstrated that women and their families found the wallets helpful in detecting early signs of potential problems, and that the wallets did not cause unnecessary attendance. Some people reported that the wallets had a positive impact on reducing anxiety.
Drawing on evidence produced by Sands and the MBRRACE-UK reports (Manktelow et al, 2016), which found that opportunities to act on women's concerns about their baby's wellbeing had been missed, the audit considered the role of the Wellbeing Wallets in improving pregnancy outcomes. There are now plans to extend the survey across all the London sites that distribute the wallets, with consideration being given to whether women were satisfied with the response they received from the maternity team in relation to their attendance.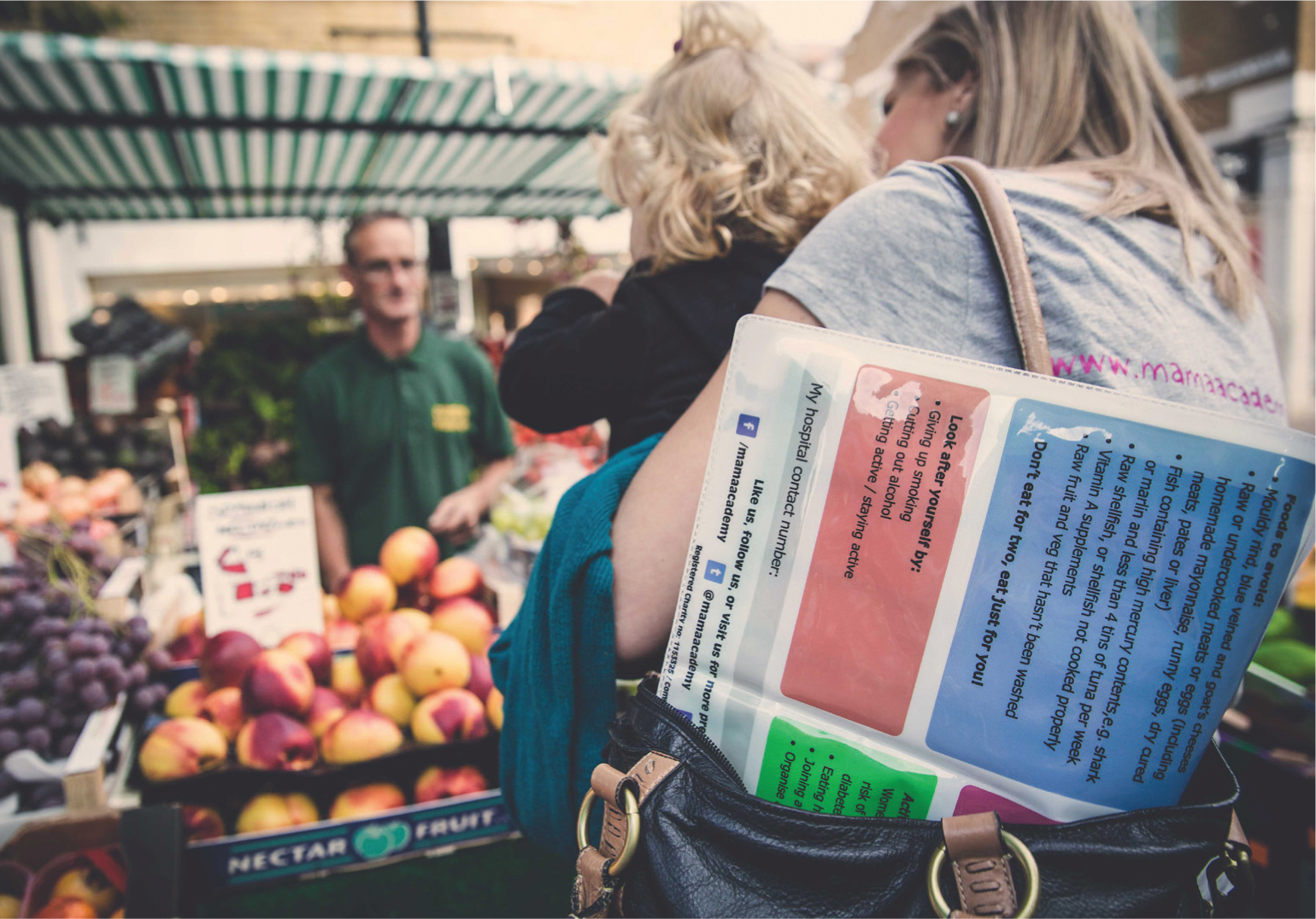 Feedback received from women in an online survey included the following comments:
'I received this at my 16 week midwife appointment, it's so helpful and informative. The bright colours mean there's no way even I can lose my notes. The information provided is so relevant and easy to read. These [wallets] are a fantastic idea, wish I had one with last pregnancy.'
'The wallet is practical and informative. It gave me more confidence in myself and in calling the midwife for reassurance. I think mums sometimes feel they don't want to bother health professionals but the wallet stressed the importance of speaking out if you are unsure or nervous.'
'I'm thrilled that the MAMA Academy wallets are now being used within [my] district because if it hadn't been for your advice I would have assumed that [my son's] movements had lessened because I was in labour, not because he was distressed. If I hadn't gone in when I did it is very likely that [my son] would have passed away.'
Feedback received from professionals at Trusts using the wallets included the following comments:
'A woman rang the department regarding a concern with fetal movements. The woman had read the information on the wallet and realised that she should ring the department and not wait. Attended the service and required immediate delivery.'
'A young mum who had a vaginal bleed at 36 weeks rang and advised a midwife that "the wallet said to call you immediately if I have a bleed, so I am". History was taken and mum advised to attend immediately. On arrival continued to bleed and emergency [caesarean section] performed. Baby arrived in good condition at birth.'
'One woman presented with a fever and explained that she had read the information on her Mama wallet of "when I should call a midwife". The woman did have an infection and received appropriate treatment.'
'One mum who self-referred to hospital with fetal movement concerns had an immediate emergency C-section due to abnormal CTG, reported that she had rung because she had been prompted by the message on her wallet. She felt she may not have done so if she didn't have the constant reminder in front of her.'
'A woman rang regarding a concern with fetal movements. She had read the information on the wallet and realised that she should ring the department and not wait…'
'One woman noticed the signs when things are not going well from the information on the wallet, this prompted her to attend labour ward and she had pre-eclampsia.'
'A woman with headache and nausea called following reading her wallet, she was mid trimester around 23 weeks pregnant. On arrival had extensive monitoring and went on to develop [pregnancy-induced hypertension].'
'A woman felt empowered to challenge the advice given by a professional (GP) after reading the wallet and discussing with her midwife.'
Box 3 includes details of how to procure the wallets for your organisation.
Procuring wallets
MAMA Academy supplies the Wellbeing Wallets to Trusts at cost price of 55p each, and delivery is £35 per 1000 wallets.
They are available in two sizes, large (38cm x 31cm) or small (35cm x 28cm), depending on the size of the handheld notes that will fit inside them.
If your Trust is unable to purchase Wellbeing Wallets, expectant parents can purchase them for £2 (including delivery charge) directly from the MAMA Academy website at www.mamaacademy.org.uk To receive a complimentary trial batch of Wellbeing Wallets or to discuss other funding options, please email contact@mamaacademy.org.uk