The International Marcé Society Scientific biennial conference was hosted this year by the University of Swansea from 10–12 September. The Marcé Society was formed in 1980 and is focused on the mental health of women and families around the time of childbirth. It aims to promote, facilitate and communicate research into the mental health of women, their infants and their partners during pregnancy and postpartum. The title of the Marcé conference this year was 'Creating change in perinatal mental health'.
The conference is traditionally arranged over a 3 day period and comprises plenary sessions, symposia, oral and poster presentations and workshops. This year there was a screening of the film by Emily Atef, 'The Stranger in Me', which gave a frank account of one woman's experience of postnatal depression and subsequent recovery. After the screening there was an opportunity for service users, clinicians and researchers to discuss the film. A wide range of topics was covered during the conference, including mood disorders, screening for perinatal mental health, prescribing in pregnancy, non-medical interventions in perinatal mental health, impact on child development, biologic and genetic studies, involvement of fathers and stigma and discrimination in mental health.
The Marcé conference typically attracts high calibre speakers and this year was no exception. One of the notable plenary session was presented by Dr Alain Gregoire, perinatal psychiatrist and member of Maternal Mental Health Alliance. Dr Gregoire spoke about the golden opportunity promotion of perinatal mental health provided for equity, parity, priority and investment in health and social care systems. The disparity and inequity between mental and physical maternal health provision in UK was highlighted, which Dr Gregoire suggested would cause an outcry if it were to happen in any other area of health care. The Confidential Enquiry into Maternal Death (2011) has indicated women often lack access to mother and baby units and are subsequently referred and admitted to general psychiatric units where they do not receive the specialist care they require. Dr Gregoire used the analogy of caesarean sections being performed by orthopaedic surgeons to illustrate the seriousness of this care deficit. The transgenerational nature of perinatal mental health and the importance of addressing perinatal mental health issues for the health and wellbeing of future generations were also covered by Dr Gregoire.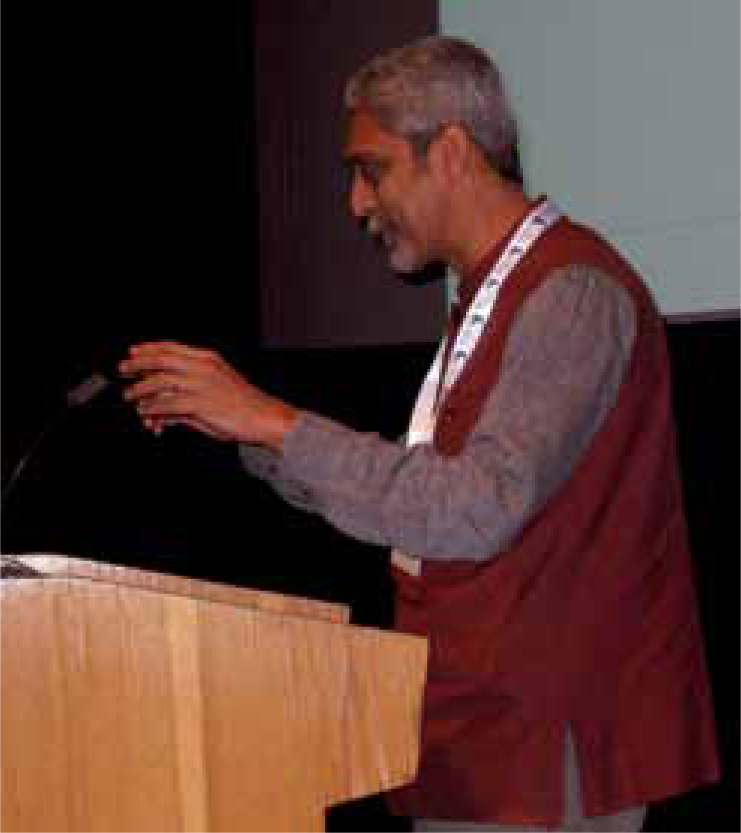 Dr Vikram Patel, professor of international mental health at the London School of Hygiene and Tropical Medicine, who gave the Channi Kumar lecture, also picked up on transgenerational nature of mental health and poverty in the global context. The risk of having mental health problems are increased three times for the child when a mother is experiencing depression. Dr Patel pointed out that infants of those mothers who are depressed are more likely to be under nourished, to under-perform at school, less likely to have opportunities to work and therefore find it harder to get out of poverty. Dr Patel also dispelled some common myths and misinformation concerning maternal mental health.
Other notable plenary sessions included one given by composer and musician, Jennie Muskett. Jennie presented a series of lullabies, which she had composed for pregnant women to listen and relax to over a 20 minute period each day. The premise of Jennie's work was based on evidence that exposure to music changes mood and therefore changes the way people feel and behave. Listening to music has been shown to regulate heart rate, reduce stress levels and change breathing.
Professor Thornicroft, professor of community psychiatry at Kings College London also gave an authoritative and powerful plenary session on reducing stigma and discrimination towards mental health and challenging negative stereotypes of women with perinatal mental problems. Professor Thornicroft presented evidence to suggest users of mental health services often experience discrimination by health professionals over their rights to conceive or become parents. Unless barriers such as these are addressed there is little hope that treatment offered in mental health will be taken up or effective.
The Marcé conference remains one of the most important scientific meetings in perinatal mental health of women, infants, partners and families. The importance of the conference was evident in the quality of presentations and the breadth of knowledge presented (Hanley, 2014). The next Marcé conference is scheduled is to be held in Melbourne in 2016.